Absolut Vodka is well-known and widely spread vodka brands all over the world. It originates from Ahus, Sweden in 1879 and represents the kind of visit card for this country. Lars Olson Smith was its founder.
During his life he struggled for it as the state aimed to nationalize this brand and he had to flee from one place to another and continue its production. Finally he passed away in the poverty. Later in 1917 the state could nationalize this brand. Nowadays it is owned by French group. It costs several billion USD. Its marketing system is strong enough. It's produced in a wonderfully designed bottle.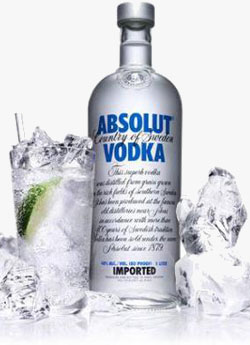 It counts several variants. They differ from one another by aroma such as: apple, peach, lemon, orange, mandarin, pear, etc. They have various bottle designs.
Let's review the original Absolut Vodka and its ingredients. It is made from natural ones and what is important sugar is not added during its production that makes it with fewer calories. It is clean soft rich drink with grain aroma. It contains 40% alcohol/80 proof.
There are several cocktails specially made from Absolut Vodka. Absolut Vodka Tonic is made from 1 portion of vodka, tonic and lime with ice cubes while Absolut Vodka Cranberry – combination of Absolut Vodka, cranberry juice, lime and ice as well.
The average price of the standard production varies from 15 USD to 35 USD (1 liter/34 oz) due to the variants and countries.
.
.
Recommended Posts: